JACOB TOMPKINS (1759-1842)
- SOME THOUGHTS ON HIS ANCESTRY.
THE LIFE OF JACOB TOMPKINS AS RECORDED BY *REBECCA AUGUSTA SHARP PRICE.
The original of this document is in the keeping of her great-granddaughter, Rebecca Masters Huffman in Mendon, Utah.
---
IMPORTANT NOTE: Below is a verbatim transcript of the original hand-written document, but most of the "facts" in the first paragraph are incorrect.
Please refer to the information provided below the transcript, and in the following SUMMARY, for the most likely actual scenario based on available sources.
---
"About the year 1756, John Tompkins, the oldest son of Baron Tompkins, left his home in the Netherlands, wishing to see the new world. He arrived in America and landed at New York, where there was a colony of Hollanders. This Colony was settled on what is now known as the Hudson river, but was then called North River. The prospective heir to a Baronetcy soon found friends among his countrymen. He formed acquaintance with Jacob Vandewater who had an only child, Magdelene by name to whom he was married about the year 1759. The following year a son was born to them, and was named Jacob. Two other children (Daughters) were born. The young couple still continued to reside with Jacob Vandewater, the daughter not wishing to leave her father who was quite an old man and all alone. About the year 1764, a letter came to John Tompkins from his home in Holland, informing him of the death of his father, and urging him to hasten home and take possession of the Estate, and assume the Tltle to which he was heir. As it was in the early part of Winter and the mother had an infant only a few weeks old, it was decided that the husband would go alone on the perilous voyage, which at that time with the slow sailing vessels would take at least four months. He would arrange his business and return or send for his wife and children. This arrangement was the more agreeable to Magdelene as she could thus remain still with her aged father. Accordingly John Tompkins sailed in the first ship that left New York bound for the Netherlands. Time passed and no letters or other news came from those who sailed in the ship. Anxiously the wife waited and watched for some account of the safe arrival of the vessel in which her husband had sailed. But no account of the ship having been seen after she left America ever reached her. After a time she wrote to her husband's family, but received no reply. And the years passed, her time being fully occupied caring for her aged father and fatherless children. She never married. Her father being one of the large landowners, her needs were well supplied. He owned a block of land six miles square on which a part of the city of New York now stands.

During the Revolutionary war, her son then a lad of sixteen years, was drafted into the British Army and served seven years as a british soldier. About the year 1784, a portion of the Army was mustered out at the City of St. John in the Province of New Brunswick, and were given lands to settle upon, and one year's provisions and some farming implements. The lands were surveyed along, and fronting on the banks of the St. John river, and running three miles back from the river. Jacob Tompkins was among those who were given land in Carleton County, about 140 miles above the mouth of the river, and 50 miles above Fredericton, the Capital of the Province of N.B. He wished to return to New York to see his mother but his comrades persuaded him to accompany them up the river and make a beginning on the land granted him, assuring him he could go to see his mother the following year. He yielded to their entreaties and ascended the river and made a beginning on the land; built a house and secured a title and made a home among his comrades. Having made acquaintance with some other settlers, he postponed the visit to New York year after year. Although his mother wrote urging him to come to her, he still said he would go next year.

In the year 1785, he married a Miss Mary Place and settled contentedly on the farm. His mother wrote many letters imploring him to come to her and promised him a competence if he would only return to his home. And he promised he would go next year. In this manner the years passed, and each year found his cares increased so that he could not leave his family. Ten children were born then his wife died. He married again, a Miss Connors, of Queens County, N.B. Three children came of this last marriage. His mother died pronouncing his name with her last breath. Although she never really possessed the title, she was called among her people in New York "The Baroness Tompkins" until her death.

Elizabeth Barbara, second daughter of Jacob Tompkins, married James Sharpe(sic) of Northampton Carleton Co. Sept. 4th 1810.

James Sharpe(sic) was drowned July 11th 1845. Elizabeth his wife died Feb. 27th 1859.

Jacob Tompkins died Oct. 1843."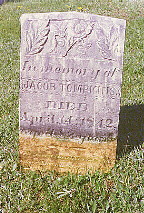 RIGHT: The headstone on Jacob Tompkins' grave at the Northampton Kirk Cemetery, Carleton County, New Brunswick reads "In memory of / JACOB TOMPKINS / DIED / April 14, 1842 / aged 83 years / Whosoever believeth in me shall / not perish, but have eternal life"
---
* Rebecca Augusta Sharp Price, one of Jacob's grand-daughters, was born c.1834 and lived at Northampton until 1895; she died in Oregon in 1917. Jacob died in April, 1842 according to his tombstone, not in October, 1843 as Rebecca stated. At the time Jacob died, Rebecca was about nine years old and her memories of whatever he may have told her personally would be those of a child. She and her mother, Elizabeth "Betsy" Tompkins Sharp (1792-1859), as adults lived near each other and Rebecca was already married with children when her mother died. So Rebecca's mother - and others - may well have added to her knowledge of the Tompkins family history. The original hand-written account of Jacob's "life and times" (as transcribed above) was prepared in her later years, presumably based on her childhood memories together with knowledge gleaned from other sources.
---
Jacob's father is named above as John Tompkins and his mother as Magdalene Vandewater but correspondence in the early-1980's with John Ward Van de Water of Canton, NY (the Van de Water family historian) failed to find any link between a Magdalene/a and anyone named Tompkins (or anyone similarly named).

The following information is taken from available records (where known, the spelling from the original documents is shown):-

(a) Magdalena, daughter of Thomas Lieuwis and Anna Maria Van den Berg, was baptised on Sept. 11th, 1723.
(b) Casparus Westervelt, widower, married Magdalina Luis, widow of John Thompkins, on July 19th, 1767.
(c) One record states that in 1766 Magdalene Luis Tompkins, "wife of John Tompkins", joined the same church as Nellie Sypher, mother of Lodowick Sypher. If this is correct, then John Tompkins must have died (or been declared dead) in 1766 or 1767 for Magdalena to be called a widow when she married Westervelt in 1767 - refer (b) above.
(d) Johannis (=John), son of Zacharia Hille and Marytie Tonkins, was baptised Sep. 23rd, 1770 with Lodewyck Sypher and Cellie (=Sarah) Tonkins as witnesses.
(e) Lodewyk Seyfer married Sara Tonkins (marriage banns registered on Dec. 21st, 1770).
(f) Urya (=Uriah or possibly George), son of Zachariah and Mary, was baptised on Sep. 14th, 1772 with Tommie Lewis and Elizabeth Tonkins as witnesses.
(g) John Tomkins Sypher, son of Lodwyck Sypher and Sara Tomkins, was baptised Aug. 28th, 1774 with Petrus Weaving and Elizabeth Tomkins as witnesses.
(h) Magdalena, daughter of James Hill and Elizabeth Tomkins, was baptised on March 28th, 1777 with Jacob Tomkins and Magdalena Westervelt as witnesses.
(i) Lydia, daughter of Zachariah Hill and Mary Tomkins, was baptised the same day, March 28th, 1777 in the same church (no witnesses listed).
(j) A "Hill Family" book by Franklin Crouch (date unknown, but probably early 1900s) states that two sons of Uriah Hill married Tompkins girls - James married Elizabeth, daughter of John Tompkins of Dutchess County, NY (date not given) and Zachariah married Marytie (Maria), daughter of John and Magdalena (Lewis) Tompkins on Aug. 20th, 1769.

---
SUMMARY: Based on the above facts, supplemented by other information from various sources, it is probable that John Tompkins (of unproven parentage) married Magdalena Lewis and they had four children - Jacob, Sarah, Elizabeth and Mary. Jacob fought for the British in the Revolutionary War and was granted land at Northampton, New Brunswick. Lodewick and Sarah Sypher also settled in New Brunswick; although living far from Jacob, Sarah had quite substantial cash dealings with Jacob, further suggesting family ties between the two.

An extensive history of the Lewis family (Magdalena's ancestors) published in the "NY Gen. & Biog. Register" tells of Magdalena's great-grandfather, Thomas Lewis, being born in Belfast, going to Holland with two sisters (who died there), then sailing to New York. He married and had four sons. Over a period of years, members of the family went back to Ireland; one died at sea; there are stories of unanswered letters; finally an estate in Belfast is claimed by the oldest heir - one Barent Lewis (not quite a Baron Tompkins, but ....).

The point made here is that while many of the salient facts in Rebecca's "chronicle" have proved to be accurate, it may well be that she actually confused the doings of her forebears, attributing the deeds of one person to another. A first-hand example I can quote concerns my own father, Eric Allan Tompkins - he always maintained that his grandfather, Joel Smith Tompkins, came out from Canada on the ship "Maryanne". This later proved to be incorrect - Joel actually travelled on the Brig "AUSTRALIA" (especially fitted out for the gold-fields). We later learned that my father's maternal grandfather, Henry West, travelled out from England in 1854 on a ship named "Maryanne" . So my dad's information was right - up to a point - it just concerned the wrong grandfather!

Until quite recently, I had believed that Jacob's father, John Tompkins - with such an English name - just had to be English. Therefor, I doubted what Rebecca had written about our forebear John Tompkins being Dutch. But the following information has come to my attention.

Another hand-written "chronicle", this one sent by Ada Glasier Brown Grant to Marie Dow Armstrong Corbet (both descendants of Jacob) in 1933, states: "Your father's mother [Adelaide Tompkins] was a double cousin** to my mother [Maria Tompkins], their fathers [Aaron and William] were sons of a Mr. Tompkins [Jacob] who "came from Machias". He was Dutch, whence the short, clear-skinned, sandy-haired descendants".
**They were double cousins because two sons of Jacob Tompkins, Aaron and William Tompkins, married two sisters, Elizabeth ("Betsy") and Bathsheba Young, daughters of Joel Smith Young.

And in "The Book of Dow", published in 1929, compiler Robert Piercey Dow, in discussing the pioneer families along the Saint John River in New Brunswick on page 692, mentions the Teeds and Dickinsons in Lower Woodstock, the Brooks family at Southampton, the Phillips and Kearneys at Northampton and the Ways and Hillmans in Temple four miles below. He goes on to state, "The Tompkins, in spite of name, were a German family and came later, as did the Lutwicks". It seems that there was no real effort to differentiate between things Dutch and things Deutsch/German around that period - the term Pennsylvania Dutch for example initially referred to a German dialect, not to anything Dutch.

Further points of interest arise from the two previous paragraphs. That the Tompkinses "came later" is correct - Jacob didn't receive his land-grant until 1796, yet he'd received his discharge in 1783! Although his name appears in various records in the intervening period, just where he lived in the dozen or so "missing" years is a mystery. Maybe he spent time across the ill-defined border between New Brunswick and Maine - perhaps in the Machias area?

That's probably enough for people to ponder on for a little while, but I'll add one further transcript to support at least some of what's been stated above -


JACOB TOMPKINS' PENSION PETITION - 1838.



To the Honourable House of Assembly etc. etc. etc.
The Humble petition of Jacob Tompkins of the Parish of Southampton County of York Showeth That your petitioner is a british subject and is desirous of procuring a pension for military services done by him in America in the revolutionary war your petitioner done actual service for upwards of six years under Captain Stephen Hoyt, Colonel Patterson in the Corps designated Prince of Wales under General Browne. Your petitioner was a non-commissioned officer in the said Corps. He enlisted in May 1776, was at the seige of Charlestown in South Carolina and received his discharge in October 1783 in St. John New Brunswick.
And your petitioner as in duty bound will ever pray


(Crossed-out signing is here)

Witness
J.M. Connell (signed)

his
Jacob X Tomkins (sic)
mark


Persently (sic) came and Apered (sic) before me JM Connell one of his Majesstrates (sic) for the County of Carlton (sic) Jacob Tomkins (sic) and maketh oath that the several matters set forth in the petition to be just and true

Jenary (sic) 29th 1838

J.M. Connell JP (signed)


The handwriting in the actual petition is in a good copperplate style and Jacob Tompkins' name was spelled correctly. But all writing after "will ever pray" is in Connell's hand. Strangely, the initial signing - presumably by Jacob (close to 80 years old at the time) - with a rather spidery X, has been crossed-out and Connell has again written "Jacob/his mark/Tomkins" (with incorrect spelling). Now this signed X is very firm, much like the crossing-out above, presumably done by Connell.
---
This is not meant to be a prize-winning or "pretty" webpage - it's purely functional, to convey information to my fellow Jacob Tompkins relatives and a few others interested in the various Tompkins families of New Brunswick. If anyone wants copies of original documents or photos, I'll be happy to scan any that are suitable and send them as email attachments or add them to this page. But each image included will add to the download time for every visitor so I think we should keep the images to a minimum.

When I originally set this page up in March, 1998, I intended adding here a list of Jacob's descendants, but I then decided - again because of download considerations - to actually prepare a separate webpage listing the first three generations of descendants (lifted straight out of my 1988 publication TOMPKINS FAMILIES OF CARLETON COUNTY, NEW BRUNSWICK) - click HERE to go there!.

Much of the material I have concerning the various Tompkins families of New Brunswick came from Stanley Corey of Green Valley, Arizona. Stanley, the doyen of New Brunswick researchers, sadly passed away in February, 1998 on his 90th birthday. Many of you will know of Stanley's work gathering information on the Tompkins (and other) families of Carleton and York Counties, New Brunswick.
---
Web-site prepared by Allan J. Tompkins of Koondrook, (previously in Melbourne) Australia
(a great-great-great-grandson of Jacob Tompkins)
You are visitor number - Web-site updated May 18th, 2010
---
The CARLETON COUNTY, NEW BRUNSWICK and the YORK COUNTY, NEW BRUNSWICK
web-sites both have some interesting material.
---
For links to our other webpages, please visit our HOME PAGE.
---